The Best Temporary Fix For A Broken Car Window
Imagine you're out shopping or running errands and you come back to a completely shattered, broken car window. Unfortunately, for some of us that broken car window nightmare is often a reality, and a very real one.
So, what do you do in that scenario?
We'll show you a process of how to proceed safely by cleaning up the broken glass, and by creating a temporary window using masking tape and a plastic bag. It is a great temporary solution.
The first step is to remain calm. The experience of a broken car window can be quite invasive and even dangerous. Especially if the glass isn't properly cleaned up and replaced, which you'll want to do as soon as possible.
File A Police Report
The next step is to call the police and file a report. That is one of the most important steps to getting things back to normal.
Broken car windows are a nuisance, but also can be dangerous. You definitely don't want to let them be as this will cause many more problems down the road. It's a good idea know how to temporarily fix a smashed-in window.
It may not be a long-term solution, but it will buy you a little time until you are able to have it replaced. In this quick guide, we'll share some pro tips on how to manage your broken car window right away.
 Later, we'll also help you find a place to get your auto glass replaced by experienced professionals.
Covering A Broken Car Window Frame
This process will take you about 30 minutes to an hour. For this guide, you'll need to have:
Gloves
A heavy-duty garbage bag or a couple of trash bags
Crash wrap (optional, as an alternative)
Packing tape, several transparent tape strips, or duct tape (1 roll)
A vacuum with vehicle-specific attachments (if possible)
Dry microfiber cloth for removing dust particles
Masking tape (which protect the painted exterior)
A few pieces of paper to protect the window's seal (and possibly car's paint) If you can, find someone to help you out with placing the tape.
2. Clean-up and Remove All The Broken Glass
This is a very important step and should be done carefully, with gloves and tools (if possible). You might find that this is a difficult process. Take your time. Identify any big pieces of glass and broken shards (both at the car window and inside the vehicle).

Remove as many as you can see and pick them out slowly. We recommend discarding in a bucket or something similar until it is time to throw it away.
This is where work gloves really come in handy.
Make sure to also check the inside pockets, cup holders or anywhere else that pieces of broken glass and debris might get stuck. This includes between the cushions of the seats. Be as thorough as possible.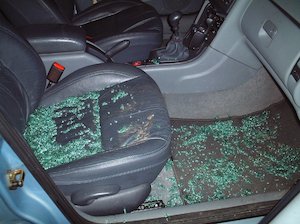 Once you have finished discarding the large pieces of glass, it's best to use a vacuum to make sure all of the smaller pieces of glass and glass shards are removed.
Be careful, these small shards are often overlooked and can be the thing that cuts your skin without much effort.
If you don't have a vacuum, you can also use a dry cloth. The tiny, sharp pieces of glass will stick to a dry cloth so that you can remove them from your car.
Before applying a temporary cover to your car's window, you'll want to clean the surface of the door so that the tape will stick. For best results, you'll be attaching the cover to the inside. Don't forget to check the window seal.
Rubbing alcohol works well to remove surface dust and grime. In general, you'll want to clean the places where your car trash bag is going to attach.You could also use a clean, wet cloth instead of alcohol, but make sure that it is completely dry before you move on to apply the car window cover.
Give it one more look to make sure there isn't any remaining visible dust, debris or other elements that may get in the way of covering the window frame.
Open the damaged door and sit in the seat closest to the broken window.
Next, you'll want to measure the dimensions of the window (length and width) and then cut the garbage bag accordingly. Then, neatly place the bag over the window, folding further to fit if necessary.
We recommend taping this makeshift cover to the door from the inside of the vehicle to avoid high winds and weather issues. Plus, when you start to drive, the adhesive may also peel away if taped to the outside.
It will also help your car window cover to maintain an aesthetic appearance. Otherwise, it will start to look worn down very quickly.
Even if the window isn't completely broken, we recommend covering the entire window for safety. Once your trash bag is measured, use both hands (or have a friend help) to hold the bag flush against it. It's important to make sure the bag has a tight fit.
Next, apply duct tape over the plastic bag. Make sure you tape over the seams to add extra support and strong hold. Also, make sure that there are no gaps between two layers of the tape. The gaps could bring in moisture in inclement weather, which could cause leaks and more damage.
Remember, if you're using duct tape, it could leave a residue and can sometimes damage the paint on a vehicle. If you have plans to replace your window immediately, duct tape is a fine option. Otherwise, consider packing tape.
You don't want to use cardboard, because it can impair your visibility. It also absorbs moisture and can lead to other issues. Crash wrap could also be used as an alternative to a plastic bag if needed. A typical auto supply store should also have alternative options to cover the window.
6. Apply Additional Tape (If Needed)
Last, you can apply a second layer of tape if you want to be extra cautious. The second layer should go around the edges of the bag, in addition to adhering to the first layer of tape. This will help you ensure that the tape will hold. A good rule of thumb is to apply the tape about two inches from the edge of the bag to the side of the window.
Give the tape a quick tap to see whether it bends inwards. If it does, it's too loose and probably means you should start the taping process again.
However, if the plastic bag is nice and tight, you're done with this step and can move on to find a repair shop. You've almost covered all your bases. Remember, safety first.
7. Find A Car Window Repair Shop
Now that your car window is covered and in place, the final step is to schedule a repair appointment in a shop as soon as possible. We recommend an auto glass shop instead of a body shop as they are often more specialized and able to handle quick repairs. You'll also want one with a lifetime warranty on their services. Most shops will also perform a thorough glass cleaning.
Unfortunately, car break ins and smashed windows are becoming more common in Las Vegas. Knowing what to do if you experience a broken window is a time investment that may pay off down the line.
We hope that you never have to get a broken car window fixed, but if you do, we are happy to provide these tips to help you stay safe and get back on the road.
To learn more about auto glass replacement, check out our recent posts, related posts and other articles. If you're looking for a glass repair in Las Vegas, please get in touch with us here at any time.